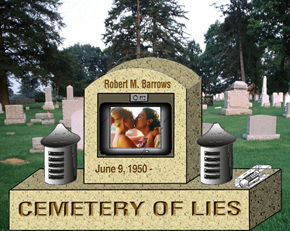 Coming soon to a Cemetery near you... The Video Enhanced Gravemarker (a patented Video Tombstone).
Now you will be able to go into a graveyard, click on a remote control device, and listen to anything the person might have wanted to say before they died.
To see some of the worldwide news coverage that this invention has already received, go to your favorite search engine and type in "Robert Barrows, Video Tombstone."
The Video Enhanced Gravemarker will have a tremendous impact on many aspects of our society... and I wrote a book about it, too. The book is called "Cemetery of Lies."